| | |
| --- | --- |
| Welcome! | |
One of the objectives and goals of the Swedish Club of Houston is to locate and join together people interested in Swedish heritage (Swedes, Swedish descendants, and others) in the Houston area, primarily through informal events and get-togethers, social as well as cultural.
The Club currently counts just under 120 members who meet at various events throughout the year, such as the annual Pea Soup and Pancakes supper, Kräftskiva (Crayfish Party), Valborgsmässoafton (Bonfire), Smörgåsbord, and Christmas Traditions/Lucia program, as well as special events centered around cultural happenings.
To become a member, click here to fill out an online membership form.
| | |
| --- | --- |
| Trombone Concert | |
Swedish ROCO Principal Trombonist Thomas Hultén leads his first Unchambered concert on February 24! The event takes place in Midtown Art and Theater Center in Houston. This eclectic program will highlight the wonders of the brass family, in chamber works featuring the trombone. From classical to jazz, there'll be something the whole family can enjoy – including an interactive Q&A with Thomas!
For tickets or livestream go to https://roco.org/performances/unchambered-feb-2023/
| | |
| --- | --- |
| Friends of Lucia | |
As everyone knows, Continental Airlines is no more (and, as a result, we have lost our sponsor of Lucia's airfare from Houston to Sweden). Thus, it becomes incumbent upon the members of the Club to step up and donate to support the long-standing tradition of the Club of sending its Lucia to Sweden. A number of sponsorship levels are available:
| | |
| --- | --- |
| Swedish Artist Johannes Wessmark in Galveston | |
Johannes Wessmark (https://johanneswessmark.se/) is an artist who works with acrylics and oils; his painting is in the hyperrealism style. His studio is located in the middle of the Swedish wilderness but he sells his paintings through two major art galleries in Los Angeles and San Francisco. Johannes Wessmark was born in Karlstad in 1962 and is self taught; he worked as an advertising illustrator for 15 years before becoming a full-time artist. His exhibition at Studio Experience Gallery in Galveston will open on February 24th. During the opening, the artist will be there in person painting live.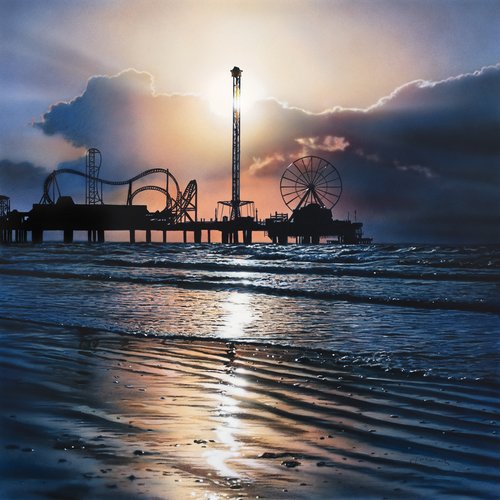 | | |
| --- | --- |
| Annual Meeting | |
A semla (or semlor if more than one) is a sweet dessert bun filled with almond paste and whipped cream, and topped with powdered sugar; it is sometimes eaten with warm milk. This tasty dessert is served during winter and especially on Fat Tuesday (Fettisdagen).

Join us on Saturday, January 26, 2023 beginning at 3:00 PM for our Annual Meeting and Semlor Fika (at which we will elect our directors and approve our budget for the coming year). It will be held in the Fellowship Hall of First Lutheran Church, 1311 Holman St (Houston); the cost is $10 for members. We hope to see you there!

Click here by Thursday January 26 to submit your reservation online.

Only those members who have paid their 2023 dues will be entitled to vote at the Annual Meeting.
| | |
| --- | --- |
| Dues Notice for 2023 | |
At long last, the Board has had to make the difficult decision to raise the membership dues in 2023; our Club is not immune from the rising prices of goods and services. Individual memberships have been $25 since the club's inception in 1986 (that's over $64 in today's dollars) and family memberships have been $35 since that category was introduced in 1992 (that's over $73 in today's dollars). Fortunately, the dues are not increasing nearly that much; the new rates are as follows:
Family $45
Individual $30
Student (enrolled full time at a degree-granting institution) / Au pair $15
Please don't delay, send in your renewal check today!!
Make check payable to: The Swedish Club of Houston
Click here to fill out an online renewal form.
| | |
| --- | --- |
| Swedish Language School | |
The Swedish Club of Houston has maintained a Swedish Language School for many years. It is the only source of Swedish language instruction in southeast Texas. Unfortunately the school was forced to suspend operations in the aftermath of Hurricane Harvey, but it has started back up!
As student enrollment demands, the school offers classes at several levels. Instruction is by native speakers of Swedish, and the approach emphasizes a conversational approach since most persons wishing to learn Swedish want to be able to speak it when visiting Sweden.
The school operates on a 15-week semester basis. Classes meet one evening a week from 7:00 PM to 8:30 PM; the beginner class meets on Tuesdays beginning 01/24/2023, and the advanced class meets on Wednesdays beginning 01/25/2023. The beginner's class will be taught virtually and the advanced-level class will be taught partially virtually and partially in-person at First Lutheran Church, 1311 Holman St, Houston. The beginner's class will continue where it left off last fall; it will not be possible to start as a beginner in January. The cost is modest, and varies according to the cost of materials, which come from Sweden. Click here to register!

| | |
| --- | --- |
| Cards & Flowers Committee | |
Are you aware of any "life" events that a member or friend of the Club may be experiencing (i.e. illness, birth, marriage, death, etc.)? If so, be sure to send an email to This e-mail address is being protected from spambots. You need JavaScript enabled to view it so that we can send an acknowledgement!

| | |
| --- | --- |
| Test your Knowledge of Literature | |
Question: What do the following all have in common?
I Was Prepared, by Justin Case
The Numbers Game, by Cal Q. Later
Deep in Debt, by Owen A. Lott
Favorite Swedish Recipes, by the Swedish Club of Houston
Answer: They are all books that were never written! Of course, there is ample reason why the first three were never written... but there's only one reason why the last one wasn't: we don't have enough of your favorite Swedish recipes!
Send your favorites to Karen Wolz!